At Global Adventure Challenges, we've been organising cycling, trekking and sledding challenge events all over the world for more than 20 years, working with more than 1500 different charities and helping to raise over £75 million.
Whether you're looking for a way to raise funds for your chosen charity through an adventure, or you want to push your boundaries as a personal challenge and tick an experience off your bucket list, you're in the right place!
---

We're here to help! From deciding on your challenge to demystifying payment options and explaining what happens in the lead-up to your departure, this page contains everything you need to find the right adventure for you and get your booking underway.
Just click one of the options below to skip to the section you're looking for:
---
Using the Challenge Search Function
Our search function allows you to find your ideal challenge, refining by activity, location, and date. So if you're only free in the summer but up for a trek or cycle, or you're specifically looking for a cycle challenge taking place in March, this is how to find it!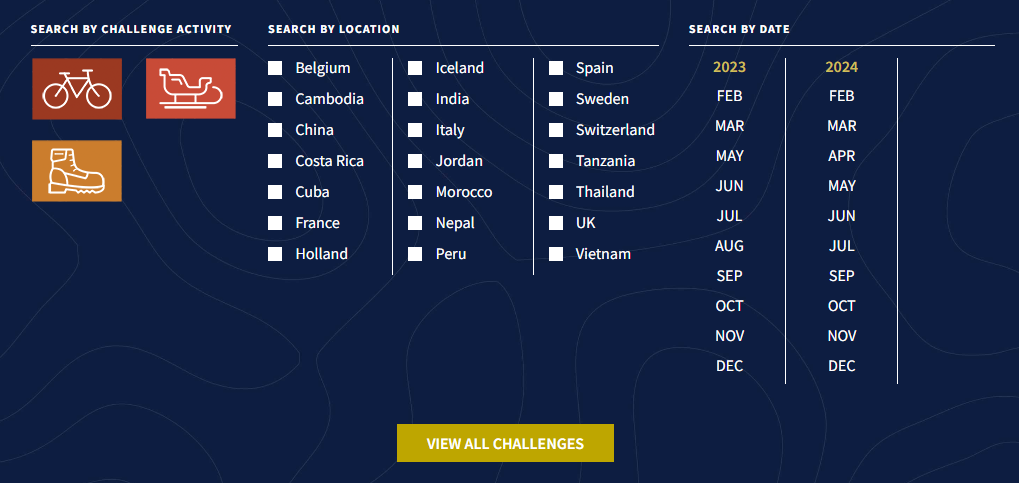 ---
Challenge Gradings
All our challenges are graded on a scale from 1 to 3 to indicate the level of difficulty, 1 being the lowest challenge grade and 3 being the most challenging. (1 = Challenging, 2 = Tough and 3 = Extreme).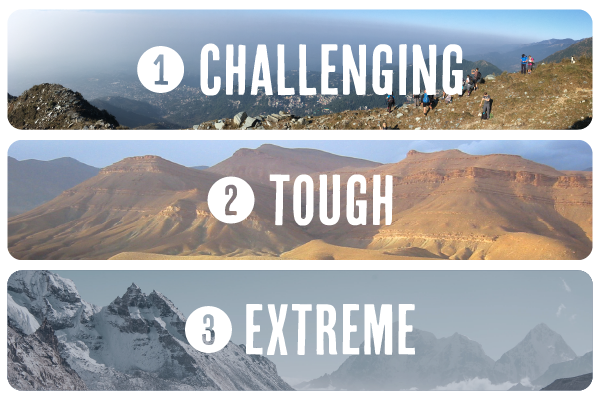 Each of our challenge events is designed to be achievable by most individuals, providing you are prepared to put the effort into training. You don't need to be a professional athlete or super fit, however the fitter you are the more you will enjoy the challenge! Please keep in mind that these gradings are intended to give a quick insight into the difficulty level associated with the challenge. You may find that an event rated 'Challenging', could have a 'Tough' day, or that a 'Tough' challenge, may have a 'Challenging' day.
You can find further information on our challenge gradings scheme here.
"Having just completed my second trip with GAC I have no hesitation in recommending them. Choose your event, get it booked, DO THE TRAINING, and enjoy!"

Sharon, Euro City Cycle





---
Activities
Treks
Our trekking challenges range from something for the complete beginner to those looking for an extreme hike at altitude. The challenges vary in difficulty and take place in destinations across the globe; from the stunning Peruvian highlands, to the awesome Great Wall of China. You also take on a trekking challenge a little closer to home, like the ever-popular Three Peaks or even 24 Peaks Trek!
Cycles
Whether you're new to cycling or you're a keen enthusiast looking to push yourself to your limits, you've come to the right place! We organise some of the best cycling challenges and experiences the world can offer. From the iconic London to Paris Cycle to cycling across Costa Rica from coast to coast, we're sure we have a cycle challenge for you.
Sleds
If you've ever dreamt of sledding across the snow drawn by a pack of magnificent huskies, then you are in the right place! There is only one challenge in this category, which shows just how unique this experience really is. The adventure is suitable for beginners to sledding as full training will be given – all you need to join our challenge is a thirst for extreme adventure!
---
Open, Bespoke or Corporate?
Open Challenges
Open Challenges are exactly what they say, open to everyone! Our Open Challenges are an exciting opportunity for you to raise funds for the charity of your choice. It's a fantastic way to support your favourite charity, particularly if they are not offering an event that suits you or at the time you wish to take part. Open Challenges offer each participant a choice of payment options – either raise a minimum sponsorship or self-fund – the choice is yours.
Each participant on our Open Challenges will have the experience of sharing the adventure with other like-minded individuals, all raising funds for different charities, close to their heart. With multiple departures throughout the year, Open Challenges give participants ultimate flexibility on when to take part, how to fund their challenge and most importantly, the option to support any charity. You can easily see which challenge events are 'Open', as it will be highlighted next to the challenge date.
Bespoke Challenges
Bespoke Challenges are events delivered for one specific charity or private group, meaning if you want to take part you have to support the charity listed next to the event date and raise the funds required. Bespoke Challenges are a great way to meet others that are all raising funds for the same cause.
Corporate Challenges
Corporate Challenges are events delivered for one specific company, which means that only employees of that company can register to take part in the challenge. Corporate Challenges are a brilliant way to strengthen workplace relationships while fundraising for a charitable cause.
---
Payment Options
Most of our challenges can be funded in one of two ways and you'll need to decide which payment option is the best for you:
Payment Option A – Minimum Sponsorship
Payment Option B - Self-Funding
If you need any help deciding, please get in touch for a chat – we're here to support you in selecting the best option for you. Full prices and breakdowns for each challenge event can be obtained by visiting their respective page.
Payment Option A – Minimum Sponsorship
With this option, the cost of your event will be met by raising a minimum amount of sponsorship for your chosen charity. Most people choosing this option will sign up a year in advance to allow them the time to fundraise, but this isn't set in stone! Some events have a lower minimum sponsorship amount and you may feel you can raise the required amount in less than a year.
| | |
| --- | --- |
| 1 | You pay the non-refundable registration fee directly to us and commit to raising the minimum sponsorship shown on the challenge page. |
| 2 | Start fundraising and send your sponsorship money to your chosen charity as you raise it. |
| 3 | If you have raised the required amount, your charity would then be able to pay the challenge balance, which is never more than 50% of the minimum sponsorship. |
Payment Option B – Self-funding
With Payment Option B, you'll fund the challenge yourself with no need to raise funds for a charity. If you'd still like to fundraise, any sponsorship you do raise will be kept by the charity.
| | |
| --- | --- |
| 1 | You pay the non-refundable registration fee to us, in order to join the challenge. |
| 2 | Before you depart, you will receive an invoice to pay the challenge balance as shown on the respective challenge page. |
| 3 | The challenge balance invoice is to be paid no later than 6 - 12 weeks before departure, depending on your event. |
Additional Costs
When taking part in any of our challenges, it's important to realise the extra costs you will incur as part of your participation. On each challenge page, you will find a list of items which are not included in the overall cost. In addition to these, you need to factor in the following:
Cost of transfers to and from the departure/arrival airport in the UK
Travel insurance – Click here to find out more
Visa application – Many of our challenges take place in far-flung destinations where UK and Irish passport holders require a tourist Visa
Transferring to a future challenge – If you choose to transfer to a future challenge, there is a charge of £60 + VAT (£72) for overseas challenges and £30 + VAT (£36) for UK challenges for you to do so, plus any difference in registration fee
Optional single supplements – if you would prefer their own room or tent, you can request a single occupancy upgrade. View Single Occupancy costs here.
"Just finished the London to Paris Tour de France edition! What an amazing, challenging, emotional experience! Fantastic organisation and support from the GAC team!"

Kevin, London to Paris Cycle





---
Registration Process
Each of our challenge places are allocated on a first-come, first-served basis, and many require permits, are limited in accommodation or due to local authorities limited in group size, so please register as soon as you can!
Once you have chosen your challenge and payment option, you can register for the challenge by visiting the specific challenge page, viewing the dates and costs tab and then clicking on the 'Register Now' button next to the event date of your choice.
---
Your Account Hub
Once your registration is complete you'll be able to access your Account Hub, designed to give you an easy way of managing your booking from the moment you sign up. Our Account Hub means you can easily keep your personal details updated, and access all the information you need in one place - including challenge documents, event arrangements, payment schedules and more!