Black Friday - Final Day!
BLACK FRIDAY SALE NOW CLOSED
FINAL DAY OF OUR BLACK FRIDAY SALE!
Today is the final day our incredible Black Friday Sale! You have until 4pm to save 25% on your registration fee on selected challenges! To find out which challenges are included CLICK HERE!
Plus, to celebrate the last day of our incredible week of adventure discounts, we have one final offer for you!
If you register onto any overseas trekking challenge included in our Black Friday Sale then not only will you receive 25% off your registration fee, but you'll also receive a free 25km place on our ultimate trekking challenge – TrekFest 2020!
Just enter TREKFESTBF at the checkout! We'll then send you a unique discount code so you can secure your place at TrekFest 2020 at no cost.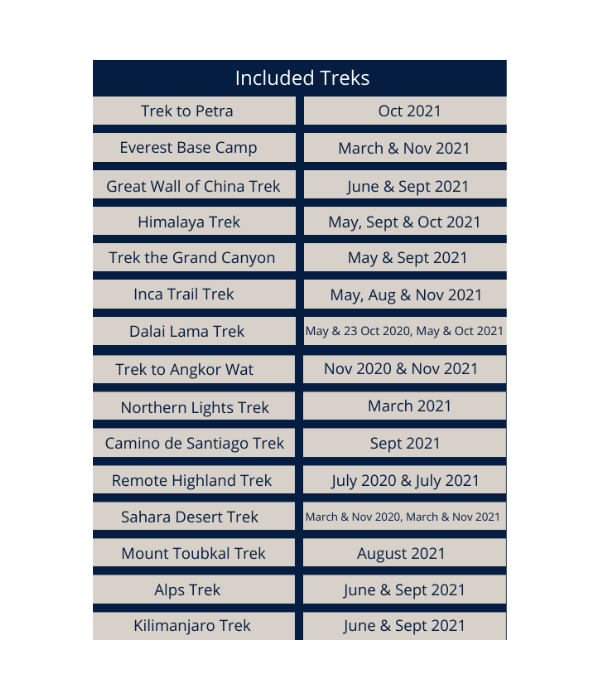 Just Enter TREKFESTBF before 4pm today to save 25% on your registration fee AND recieve a free place on TrekFest 2020!
T&Cs Apply - TREKFESTBF
1. Registrations must be made online between 9:00am and 4:00pm on Friday 29 November 2019;
2. Discount cannot be used in conjunction with any other offer or discount;
3. Discount code can only be used on specified Overseas Open Trekking Challenge registrations;
4. Use of the discount code entitles the user to one free 25KM place on TrekFest - The Beacons 2020. A unique code allowing the user to register for TrekFest will be sent via email in the week following the close of the sale;
5. The free TrekFest place is non-transferable and can only be redeemed by the user registering for the eligible overseas open trekking challenge;
6. Discounts have no alternative cash value;
7. If the cost of the registration fee is less than the discount offered, no monetary difference will be paid;
8. All discounted registrations fees are subject to our standard booking conditions.
return to adventure journal