Our London to Paris Cycle Challenge - Route and Distance
London to Paris is a fantastic cycling challenge and one of the most iconic European charity challenges out there! There are a wide range of different routes and distances that can take you from London to Paris, and it's important to make sure you choose the right one for you.
Here at Global Adventure Challenges, we believe that the journey is just as important as the destination, therefore we have made sure our route takes in the best sights along the way. Our popular London to Paris Bike Ride involves cycling for four days, over 300 miles from capital to capital, with a fifth day free to explore Paris! Our route incorporates iconic landmarks and history with picturesque scenery from start to finish!
"Life is a journey, not a destination".
Our Event Support Team will be with you every step of the way, making sure you have everything you need on this challenge of a lifetime. When you register on the first day, you will be supplied with a route guide and the route will also be clearly marked with florescent arrows to aid you to navigate your way to beautiful Paris. A support vehicle will follow the group providing medical and mechanical support if needed.
Our London to Paris Bike Ride is a fantastic cycling challenge and one of the best fundraising events in Europe, attracting hundreds of riders each year and raising thousands for charities nationwide.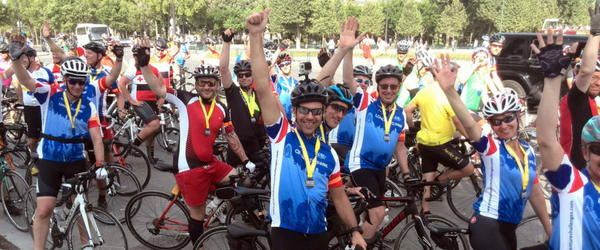 LONDON TO PARIS ROUTE AND DISTANCE
Day 1: London to Calais. Cycling Distance: 86 miles (approx.)
Setting off early to avoid the London traffic we are soon cycling through the Kent countryside. Today is a long cycle, however upon reaching Dover we will be rewarded with views of the spectacular white cliffs. We board the ferry from Dover to Calais and enjoy dinner on board. It is then time for our final push as we cycle to our hotel in Calais, for a well-deserved rest.
Elevation Profile

Total ascent: 5,719 ft.
Total descent: 6,144 ft.
Day 2: Calais to Arras. Cycling Distance: 82 miles (approx.)
After breakfast we start our days cycling – remembering to stick to the right! The first 10 miles involves cycling on smooth, flat roads before the route starts to become more undulating as we cycle through French countryside to our lunch stop. After tackling a few small climbs after lunch, we then descend into the beautiful medieval town of Arras – one of the prettiest towns in Northern France.
Elevation Profile

Total ascent: 4,016 ft.
Total desent: 3,898 ft.
Day 3: Arras to Compiègne. Cycling Distance: 76 miles (approx.)
We continue our cycle south through the Region of the Somme and its WWI battlefields – surrounded by rolling, green meadows and multiple war memorials of the First World War. The afternoon sees us cycling through traditional French, tree-lined avenues, as we reach Compiègne. Compiègne has been the starting point for the famous "Paris-Roubaix" cycling race. It is then time to relax, ahead of our final day in the saddle.
Elevation Profile

Total ascent: 3,002 ft.
Total descent: 3,122 ft.
Day 4: Compiègne to Paris. Cycling Distance: 67 miles (approx.)
Day four marks the final day of our European cycling adventure! We leave Compiègne and journey through the beautiful forest surrounding the town. We then continue through pretty towns and villages towards the outskirts of Paris. We continue to the Capital, and cycle through the hustle and bustle of the Parisian streets until we reach the famous Louvre. Here we re-assemble before riding together up the Champs Elysées to our finish line at the Champ de Mars, looking back at the iconic Eiffel Tower.
Elevation Profile
Total ascent: 2,671 ft.
Total descent: 2,676 ft.
Day 5: Paris to UK
On our final day we are free to enjoy the sights of Paris – take a trip up the Eiffel Tower, visit the Notre Damn Cathedral or the Arc de Triomphe! Or simply soak up the atmosphere in one of the little Parisian cafés! In the early afternoon we make our way back to Gare de Nord and catch the Eurostar back to the UK, before saying farewell to our fellow challengers!
(Please note, this is a complex itinerary and subject to change).
This is one of the most exciting cycling experiences in Europe! For more information on our London to Paris Bike Ride, click HERE.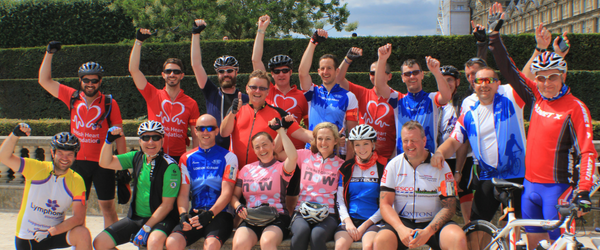 COMBINE OUR LONDON TO PARIS CHALLENGE WITH THE TOUR DE FRANCE!
In addition to our classic London to Paris Cycle Challenge, we also offer a Tour de France Finale Edition! Here the cycle route and distance are the same as our classic challenge, however on our final free day in Paris, we have a chance to experience the world-famous finale of the Tour de France! An epic ending to this fantastic charity challenge!
For more information and to request our London to Paris Tour de France Finale brochure, click HERE.
Related Blogs -
return to adventure journal