Meet our Guides - Elias Lazo
If you're anything like us, you're using your time at home to refresh your bucket list and dream about all the places you'll visit when the time is right. So we thought we'd take the opportunity to chat to some of our awesome tour guides about why their challenge should be next on your list!
First up is Elias Lazo – one of the amazing guides on our Inca Trail Trek!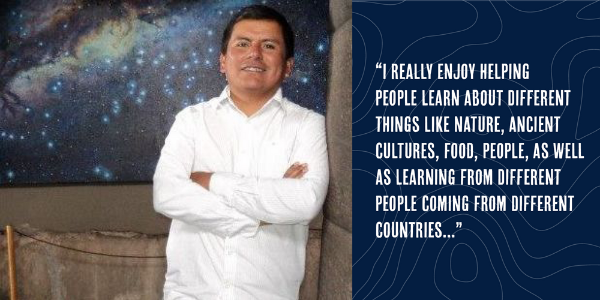 What is your role?
My name is Elias Lazo, and I am a tour guide!
How long have you been working in adventure travel?
I have worked for around 15 years in the tourism industry, but in the adventure travel industry close to 8 years.
What made you first want to get involved?
A lot of things made me want to get involved - foremost when I started to do some trips around my country. I saw how people value the places where they live, how they like to share those places, and how they always say; "Tell your friends to come to visit us!" Once I started my studies, I did some hikes and climbed a volcano where I found some tourists. It made me think, I want to show them all the places we have, as well as the feeling of being outside with nature, the animals, the beautiful scenery with a feeling of peace and tranquility.
What is your favourite thing about your job?
So I can tell you a lot of things I like about my job, as a favourite thing I can tell you - I really enjoy teaching different things like nature, ancient cultures and food, as well as learning from people coming from different countries. By the way, being a tour guide is a profession where you never stop learning!
Tell us your favourite thing about your home country?
We are welcoming and friendly!
Thanks Elias!
If you've got itchy feet, head over to our Inca Trail Trek challenge page to request a brochure and get your adventure underway!
return to adventure journal