Cycle Challenges in India
Beautiful, chaotic and colourful are all words to describe the seventh largest country in the world; India. Full of diverse landscapes, vibrant cities and home to the awe-inspiring Taj Mahal – it's no wonder that India is on many people's travel bucket lists!
Renowned worldwide for its rich history and mouth-watering cuisine, India is one of our favourite adventure locations! If you'd like to explore this fascinating country, whilst combining an exciting adventure then these Indian cycle challenges are for you!
India Cycle Challenge (Rajasthan)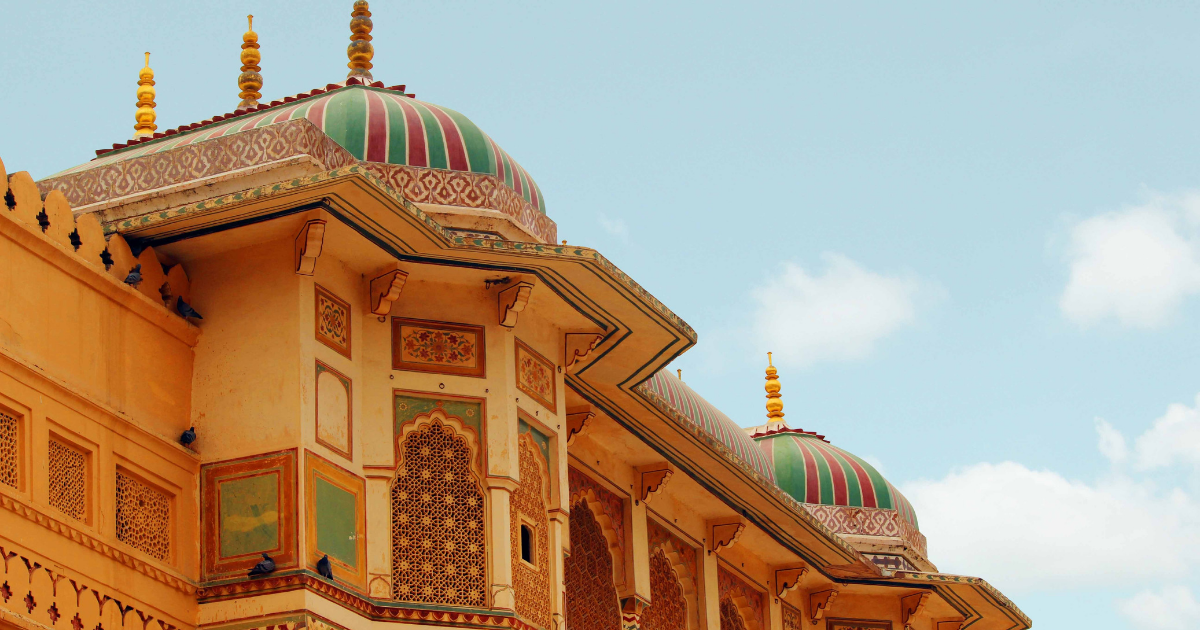 Location: Rajasthan / Cycling Days: 5 / Distance Covered: 350km / Total Duration: 10 days
Take on a fantastic cycle challenge in northern India and explore the fascinating region of Rajasthan!
Day 1 – Depart the UK for Delhi.
Day 2 – Arrive in Jaipur and have chance to explore this lively city and get used to our new surroundings.
Day 3 – Today we'll have chance to explore Jaipur, including the Amber Fort, Sheesh Mahal and the Maharaja's City Palace.
Day 4 – Our cycle challenge begins! We'll spend the day cycling through the Aravalli Hills, far from the tourist trail and then continue on to the village of Abhaneri, famous for its step wells.
Day 5 – Today we will explore the local village life of Rajasthan, cycling through small villages and lush green fields.
Day 6 – We'll start the day by going on a Tiger Safari in Ranthambore Wildlife Park. Our challenge then continues as we cycle to the outskirts of Hinduan city.
Day 7 – Today we visit Baretha Dam and then cycle southwest along hilly landscapes.
Day 8 – Starting in Karauli we begin our final days cycling; a flat easy ride to the outskirts of Basantpura and then transfer to Agra.
Day 9 – In the morning we will explore the incredible Taj Mahal – a UNESCO World Heritage Site and India's most famous monument. In the evening we will look back on our achievements during our celebratory meal!
Day 10 – Catch our flight back to the UK and say our goodbyes to our fellow challengers.
This challenge is for you if you'd like to;
Visit the 'Pink City' of Jaipur, the capital of Rajasthan.
Witness village life far from the tourist trail
Experience a Tiger Safari
Visit the Taj Mahal

Location: Kerala / Cycling Days: 5 / Distance Covered: 360km / Total Duration: 10 days
Join us and discover the serenity of Kerala, whilst supporting the cancer charity of your choice!
Day 1 – We depart the UK for our flight to India.
Day 2 – Transfer to Thattekad and enjoy a short warm up ride.
Day 3 – The start of our challenge! Today we will cycle along the Periyar riverbank and then up to the tea plantations of Munnar.
Day 4 – Today we will cycle through the Lockhart Gap with views of the incredible Bison Valley, before cycling through the Cardamom Hills to our overnight accommodation.
Day 5 – After breakfast we will cycle through spice plantations, conquer some steep inclines and enjoy views of the famous arch dam of Idukki.
Day 6 – Today's cycle will take us to the tranquil backwaters of Kumarakom, where we'll have time to relax and enjoy this stunning location.
Day 7 – Our last day of cycling will see us experience breakfast on board a houseboat on the scenic Vembanad Lake, before continuing our cycle to Marari – to enjoy our celebratory dinner!
Day 8 – Today we have some free time to enjoy Marari beach or to embark on an optional tour to Fort Cochin.
Day 9 – Transfer to the airport for our overnight flight back to the UK.
Day 10 – Arrive back in the UK and say our farewells.
This challenge is for you if you'd like to;
Cycle through famous tea and spice plantations.
Experience breakfast on board a traditional houseboat as we cross the stunning Vembanad Lake.
Witness the dramatic mountain scenery of Munnar.
Visit the world-famous arch dam of Idukki.
Wherever your wanderlust takes you, we have the perfect Indian cycle challenge ready to be conquered! For more information on our India Cycle Challenge or Unite & Bike Against Cancer Challenge, give us a call on 01244 676 454 and a member of our events team will be happy to help.
Related Blogs
return to adventure journal