What to Expect on Our Lapland Husky Sledding Adventure!
Nothing will prepare you for the exhilaration of being guided through the Arctic by your own team of adorable huskies. Husky sledding in Lapland is an unforgettable adventure into the wilderness! Get ready to fuel your wanderlust …
Our Lapland Husky Trail is our most unique charity challenge, as we spend five days sledding through the rolling hills and deep forests of Norway and Sweden!
This is a hands-on adventure! We'll be required to erect our own tents, cook for ourselves as well as care for our team of huskies! But don't worry – this challenge is suitable for everyone as full training will be provided before you take on the challenge, you'll just need to ensure that you have a good level of fitness.
This is by far one of our most popular challenges and it's not hard to see why – with the opportunity to witness the Northern Lights, visit the Ice Hotel and experience the true wilderness of Lapland.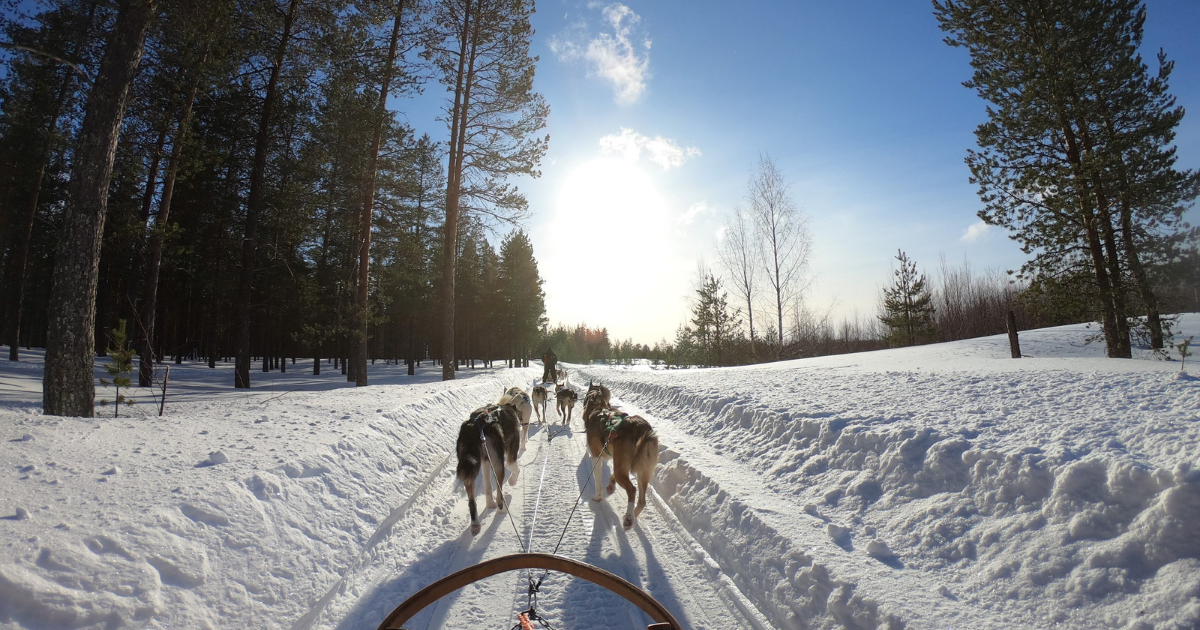 THE FACTS
Challenge Duration: 8 Days
Number of Days Sledding: 5
Challenge Distance: 270km (approx.)
Challenge Grading: Tough (2/3)
Accommodation Type: Hotel & Camping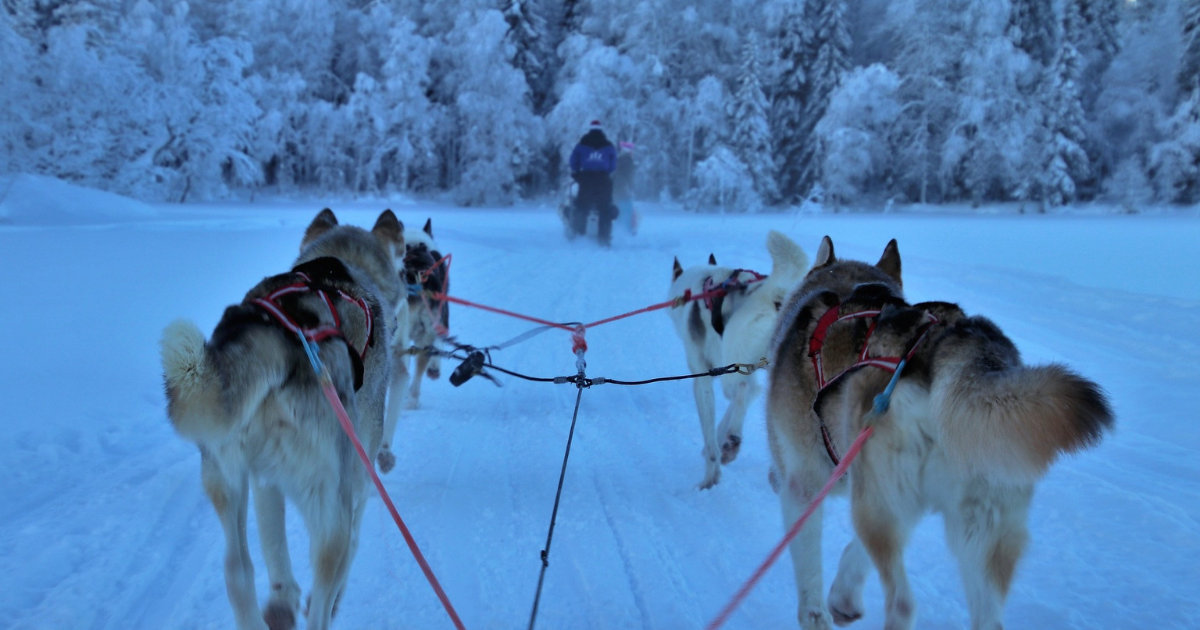 THE ITINERARY
Day 1 Distance Sled: 10km
Today we'll arrive in Tromso, Norway along with our fellow adventurers and we'll transfer to the Dog Sled Centre where we'll meet lots of high-spirited Huskies!
We'll receive a briefing on the specialist equipment and have a short trip to practice our dog sledding technique, before enjoying our evening meal!
Day 2 Distance Sled: 30km / Sledding Time: 4hrs
After breakfast we'll enjoy a scenic drive to Signal Valley, before starting our Lapland sledding adventure! Today we'll sled to the Tri-Nations Border (between Norway, Sweden and Finland) and then sleep under the stars after enjoying our evening meal at camp.
Day 3 Distance Sled: 55km / Sledding Time: 5.5hrs
Today we'll sled further into Sweden, starting with an uphill climb - ascending 800m with incredible views of snowy mountains and deep forests. What goes up must come down – the afternoon will be spent descending down to Keinovopio!
Day 4 Distance Sled: 45km / Sledding Time: 5hrs
After making breakfast we'll head deep into the mountains of Sweden, home to the Sami people. Keep your eyes peeled for reindeer as we push on to our next camp at Rostojarvi!
Day 5 Distance Sled: 55km / Sledding Time: 5.5hrs
Today is one of our longer days in the sled, as we descend from the mountains and into the depths of the Swedish forest. The snow mobile tracks that we follow are challenging but fun, as we twist and turn though the forest.
Day 6 Distance Sled: 75km / Sledding Time: 7.5hrs
Our final and longest day in the sled! Sledding through dramatic forest, down to the lakes and rivers will be a day to remember! The famous Ice Hotel in Jukkasjarvi will be waiting for us at the end of our journey.
After a tour of the magical Ice Hotel, we'll enjoy a celebratory meal in the hotel's restaurant before sharing stories and enjoying a drink at the Ice Bar!
Day 7
After a big breakfast at the Ice Hotel, we'll feed our Huskies one last time before transferring back to Tromso, where we'll stay the night.
Day 8
Today we'll catch our flight back to the UK, say goodbye to our fellow adventurers and head home with memories to last a lifetime!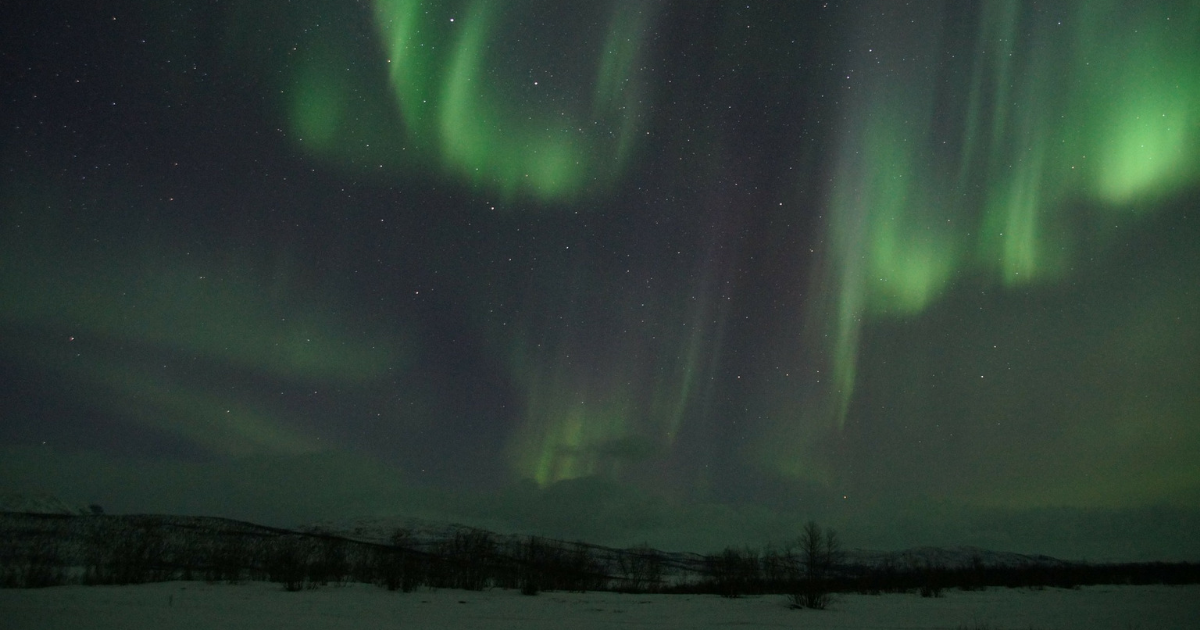 WHAT'S INCLUDED?
Return flights from London to Tromso
All accommodation and meals during the challenge, excluding the celebratory meal on Day 7.
Tents and all essential kit items (snow boots, parka, trousers, sleeping bag etc.)
Professional English-speaking sledding guides throughout the expedition
Global Adventure Challenges leader from the UK
Full and comprehensive first aid kits
Would you like to lead your own team of huskies across the Arctic? Register for our Lapland Husky Trail today and experience an adventure like no other!
Related Blogs:
return to adventure journal