How Hard Is It to Climb Mount Toubkal?
Standing at 4,167m, Mount Toubkal is the highest peak in the Atlas Mountains and the tallest mountain in North Africa. The first ascent by Europeans was on the 12th June 1923 and Mount Toubkal is now a popular destination for both beginner and expert climbers alike.
HOW HARD IS IT TO SUMMIT NORTH AFRICA'S HIGHEST PEAK?
Climbing Toubkal is definitely a challenge and shouldn't be taken lightly, however it is a rewarding trek with superb views of the High Atlas Mountains and can be a great introduction to climbing adventures!
Fitness Level
Mount Toubkal is a non-technical summit – you don't have to be an expert climber, but you do need to have a good level of fitness and an appetite for adventure! The fitter you are and the more you train prior to the challenge, the more you will enjoy it. It is therefore important to get your training in prior to taking on Mount Toubkal; make sure you have trained on hills and steep inclines as well as training on consecutive days - our Mount Toubkal trekking challenge involves trekking for 3 days, for 8-10km daily, so it's important you are used to this amount of walking.
Equipment
You won't need any technical gear to climb to the summit during the summer months, however during winter, crampons and ice axes are required as snow settles above 3000m. If you are looking to climb Mount Toubkal during these months it is highly recommended that you have experience of climbing in such conditions.
Our Mount Toubkal trek takes place in the summer; therefore, snow equipment is not needed – however it is important that you have the correct kit with you on your trekking challenge! A good pair of warn in walking boots are a must, as is waterproof clothing and layers! The temperature can drop in an evening so it's important to come prepared for all weather conditions – make sure you bring a good sleeping bag! Our challengers will be provided with a full Kit List prior to the challenge.
Altitude
Trekking to the summit of North Africa's highest mountain involves walking and sleeping at altitude, therefore altitude sickness is a possibility. Our base camp on the mountain is at 3,210m and therefore mild symptoms may be experienced, such as headaches, nausea and lack of appetite. The best way to adjust to altitude is to walk slowly and rest as often as possible – in addition, make sure you drink plenty of water during your trek! Our awesome guides will be able to advise you if you are starting to feel the effects of altitude.
Grading
We have rated our Mount Toubkal trekking challenge as 'Tough' (2/3) due to the fact we are walking for 3 days consecutively, covering approximately 26km in warm temperatures and at altitude. Our itinerary has been designed to maximise our chances of success and our team will be there supporting you all the way to the summit - it is worth remembering it is not a race and one top tip you should follow is to trek at slow steady pace.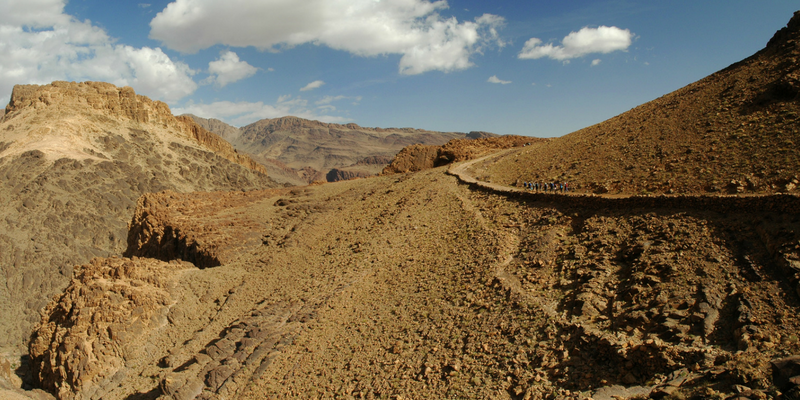 THE ROUTE
Our Mount Toubkal Trek is a three day trekking adventure through stunning scenery and impressive landscapes. We will experience breath-taking views across North Africa as we pass through remote villages and terraced fields, experiencing the warmth and friendliness of the local Berber people. This is the perfect trekking challenge for those who have limited time to take away from home, taking just five days in total.
Imlil to Nelter Hut
After our flight from the UK and overnight stay in Marrakesh, our challenge starts at the Berber village of Imlil, where we will meet our mules that will carry our luggage and food on the trek. We begin our challenge at an altitude of 1,740m and the trail winds slowly uphill crossing rivers and streams. We reach the tiny village of Sidi Chamharouch (2,310m), where we will see its famous white rock Mosque in the distance. We then continue to trek up the steep mountainous terrain to Nelter Hut (3,210m), where we will enjoy an evening meal and an early night – in order to rest before reaching the summit the following day!
Nelter Hut to Summit to Nelter Hut
The following day, we begin trekking through grassy green meadows, which soon changes to steep scree and boulders as we hike higher into the soaring peaks of the High Atlas Mountains. The higher we climb, the steeper the route becomes – but to keep us motivated, the views become more and more impressive! Today is the toughest day of the challenge, but when we reach the summit (4,167m) our sense of achievement and views from the top will make it all worthwhile! On a clear day we will have great views of Marrakech to the north and the jagged Siroua range of mountains to the south. After soaking in our surroundings, we then return back down to Nelter Hut.
Nelter Hut to Marrakesh
After a good night's sleep and hearty breakfast, we continue trekking downhill until we reach the small Berber village of Aroumd and then transfer to Marrakech to celebrate our achievements – Moroccan style!

If you are looking for your first trekking adventure at high altitude then this trekking challenge is for you! Join our amazing team on this fantastic long weekend trek and tick Mount Toubkal off your Bucket List!
Related Blogs
return to adventure journal